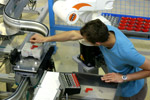 Urban Engineering
Urban Engineering and Housing
Research topics are related to information systems, decision aid support systems for urban projects management, transportation systems, urban management. Urban areas superimpose to the classical problems of geotechnical engineering as slope movements and foundations, specific problems such as interaction of structures, periodic reconstruction at the same place, control of water sources, specific admissible values for displacements and perturbations to the environment, risks management, ….
The goal of research works is to find global solutions to these problems, designed for sustainability, cross-cutting issues benefiting from a comprehensive approach that factor in the complex interplay of demographics, ecology, geopolitics, policy-making, economic viability. This objective is the subject of the research tasks undertaken within the framework of the Pole of Research and Transfer of Technology in Urban Engineering and Housing) which gathers the whole of the regional research laboratories in the speciality.
Healthcare engineering
The awakening of the major impact of the management of healthcare systems and of the control of various hospital flows is increasingly strong. This control aims to the improvement of the access to the care and quality of the care offered to the patients. The research topics, in coherence with the regional research programs in health, will deal with the organization and the optimization of the emergency and healthcare networks.
The purpose of this work will be undertaken within the framework of the project Pole of Research and Transfer of Technology in Engineering of Health which aims at to contribute to achieve these goals. It reflects the will of a consortium of laboratories, hospitals and organizations of care and health to jointly develop university research, technology transfer and training in the field of healthcare engineering.
Automatique, mécanique et informatique humaines [ LAMIH ]
Information - Communicationn / Design, Visuel, urbain [ DeVisU ]