Engineer via exam route
Presentation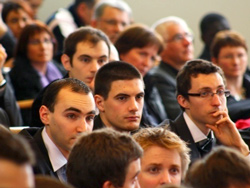 The school was founded in 1979. It was initially called ENSIMEV (National School of Mechanics-Energetics Engineering, Valenciennes). It changed to its current name ENSIAME in 2002 following its merger with EIGIP (School of product and IT design engineering). Since its inception, this three-year training program has certified nearly 4,000 engineers. Today, it has an annual intake of around 180 students.
The school offers three specialisations, each with two elements:
ME- Mechanics-Energetics

Concurrent Mechanical engineering
Fluid dynamics and energy engineering

MT- Mechatronics

Mechatronic engineering
Microsystems engineering

IGI - Information Systems Engineering and Management

Systems management
Systems IT
These training options are all accredited by the internationally oriented competitive cluster I-trans. The school is particularly recognised for being international and industry-centred. 
Strong International Relations
Semester-based courses with credits awarded in accordance with the European Credit Transfer System (ECTS) allow students to complement their studies in a partner university abroad. Each of our students must spend some time abroad, whether as an intern or a student. If studying, this may be a full semester of classes, or even completion of a double degree.
Industry
Important figures in French and Foreign industry trust ENSIAME. This trust is particularly held in our training for aeronautical, automotive and railway transport engineering, as well as energy engineering. ENSIAME is one of the leading schools in French-German relations, due in no small part to its long-standing relationships with such prestigious clients as Audi AG, Robert Bosch GmbH, BMW, Daimler or Siemens. The school is so highly regarded in Industry that an HR survey undertaken by Le nouvel économiste (Economics Journal) rated it in the top 40 institutions in France. ENSIAME students undertake two industry placements, allowing them to better understand the challenges of the workplace and ensure that they reach the working world with the best possible training.