Engineer via exam route
Teaching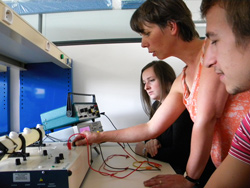 Teaching comprises the subjects studied as part of the common curriculum, as well as specialist subjects taken by smaller groups of students.
The common curriculum
First year at ENSIAME is in large part made up of teaching common to all students.
 
Courses
Mechanics-Energetics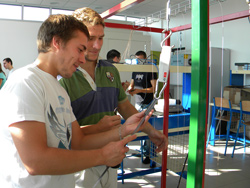 The Mechanics-Energetics course aims to train high-level general engineers, specialising in structural mechanics, fluid dynamics and energy. A student from this course is perfectly equipped to work as a consulting engineer for businesses in the Transport, energy and associated industries.
Digital engineering is a major support for training, alongside solid theoretical and physical grounding. The experience garnered allows our engineers to work in calculation, project management, consulting engineers or experts within the industry's various specialisations.
After the first common year that teaches fundamentals of mechanics, students choose from the following specialisations: CIM (Integrated mechanical design) or MFE (Fluid and energy mechanics).
Final year allows students to refine their career plan. The first topic covers: Structural analysis, sustainable environmental design or simulation of material transformation and behaviour. Topic two covers: Transport aerodynamics, industrial energy and finally renewable energy and the environment.
Mechatronics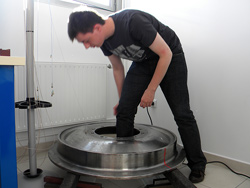 Mechatronics is the combination of mechanics, automation, electronics and IT designed to improve product performance and reliability. The combination results in a new way of designing, as Mechatronics isn't only adapting electronic control systems but requires a solid study and comprehension of how to integrate different technologies. This technical diversity means that specialists from differing areas must work together to achieve flawless project management.
The aim of the mechatronics section of ENSIAME is to ensure that students have the information required to truly master the science and technology necessary for the implementation of a changing mechatronic system, while focusing on a global approach to any problems encountered. In order to gain the best possible understanding of mechatronics, the teaching element of the course is founded on the four core disciplines of mechanics, automation, electronics and industrial IT.
Designing mechatronic products requires management of mechanisms whose dimensions can go from micro to macro, often in real time. Therefore, from 2nd year onwards, students are asked to choose between two different paths: Mechatronic engineering or Microsystems engineering.
A student choosing the mechatronic option aims to work as part of a project team that will benefit from the engineer's transferrable skills. With experience, the student can then work as a project manager, taking charge of the mechatronic element of the business, whether a major multinational or a forward-thinking SME.
IT and systems management    
The competiti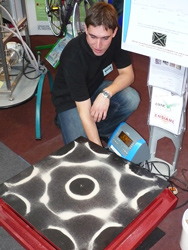 ve nature of business in today's globalised economy means that everyone's skills become important and should not be overlooked. Technical performance of products and services that enter the marketplace is key, as is the economic and managerial behaviour of the organisation that put them there.
This course option addresses the design and behaviour of goods (vehicles, computers, food produce) and services production systems (health, energy, finance…). The general training is reinforced by specific training on IT (optimisation techniques, digital analysis, algorhythms, development, communication and networks) and Management (design and control of production systems, maintenance, quality, function safety as well as the human, economic and financial elements.
Third year focuses on collaborative projects. In a group of 15, students oversee the design, development and implementation of flow management for a robotic industrialised flexible production cell. These teaching elements mean that students are workplace-ready as soon as they leave the course, and mean that students are easily able to step into managerial roles in all areas of the industry (transport, energy, agro-food…), IT (scientific information, e-commerce, networks…) and services (logistics, banks, insurance, health…).