Partners
Partner Organisations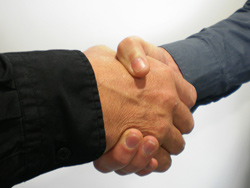 ENSIAME engineer training carries the ITRANS label. 
Sitting as it does at the centre of the most important region for the railway industry, ENSIAME has a definite focus on transport and energy. Its important links with the internationally oriented competitive cluster i-Trans mean that the engineer training carries the i-Trans label.
INOPME is a collective action carried out by the Nord-Pas de Calais (NPdC) Region and the University of Valenciennes. 
It brings four engineering schools together, each training engineers using the apprenticeship route: ENSIAME, ICAM, Polytech'Lille and CESI Arras.
Aim: 
Enable businesses to develop innovative projects using an apprentice engineer. 
Methodology: 
Favour the detection, emergence and development of innovative projects in SMEs, 
Keep businesses informed regarding the apprenticeship contract and training program offered by the four engineering schools, 
Develop innovative knowledge and technology transfer between the various partner organizations and SMEs, 
Offer specific support for the apprentice/SME pairing, 
Support with the financing and classification of innovation projects. 
INOPME partners: AIF, ARIA, i-Tans, NFID, UIMM, FIM, INPI and OSEO.
The Sandwich course department draws strength from various networks: the ITII (Institut des Techniques d'Ingénieurs de l'Industrie- Institute of techniques for Industrial Engineers) network.
Key figures for the ITII: 
23 ITII in France
More than 40 training options for both in-house training and apprenticeships
58 engineering schools and partner universities
More than 1,450 engineers certified through the apprenticeship program
More than 17,000 engineers currently working
More than 1,450 engineers certified through the apprenticeship program each year
More than 250 engineers certified through in-house training each year
FORMASUP is the managing organisation for upper-level apprenticeship. 
Network "n+i" is a group of French engineering institutions of higher education who share international strategies and have thus chosen to mutualize their international cooperation efforts to attract and welcome high-caliber foreign students. On behalf of these engineering institutions, Network "n+i" is in a position to offer individualized attention and high-quality services to a large body of foreign students. Consequently, Network "n+i" fosters connections between French engineering institutions and foreign higher education institutions across the globe, also allowing the former to send their own French students abroad through jointly signed agreements.
International Students
Network "n+i" attracts international students, notably graduates with Bachelor-level engineering, technical, or scientific degrees, who desire to pursue a "diplôme d'ingénieur," the distinguished French postgraduate, engineering degree*, or one of any Master's or Master of Science degrees. These degree programs are offered in all fields, ranging from Aerospace, Agriculture and Civil Engineering to Cybernetics Chemical and Electrical Engineering…
Via an online platform (www.nplusi.com), international students may register and create a single profile for free. Choosing from any of the Network "n+i" member institutions, students can the later apply simultaneously to multiple institutions and programs with one profile. 
Once admitted and upon arriving in France, "n+i" international students optimize their educational experience by choosing one or several « Track to Success » preparatory programs to facilitate their integration into French academic life: the Cultural Integration Package, the Linguistic Integration Package, and the Methodological Integration Package. 
* Regarding the French diplôme d'ingénieur: the term as well as the profession of ingénieur is used in a wider sense than is understood by the meaning of the English word "engineer." In France, it denotes a well-rounded scientific Master's degree equivalent. In France, the title of ingénieur must be approved by the Commission des Titres d'Ingénieur (CTI) (French Accreditation Board for Engineering Education).
French Students
Network "n+i" also offers attractive opportunities to French engineering students coming from any of the member institutions.
These French students can apply to study abroad or to complete internship abroad (research or professional) in accordance with the receiving organization.
For a list of academic partners: http://www.nplusi.com/foreign-universities.
For a list of professional partners: http://www.nplusi.com/companies. 
For more information about Network "n+i," please visit www.nplusi.com or contact contact [at] nplusi.com. 
The Nord Pas-de-Calais region is actively involved in apprenticeship and the financing of in-house training for jobseekers.