ENSIAME
Presentation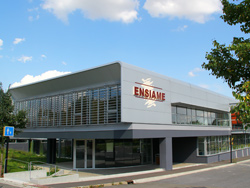 ENSIAME is a public engineering school, and has been accredited by the Commission des Titres d'Ingénieur since 1979. It is supported by the 'Ministère de l'Education Nationale, de l'Enseignement Supérieur et de la Recherche' (Ministry for higher education and research).
It is a generalist facility with its sights firmly set on the international. It is proud to hold the EUR-ACE engineering accreditation label. The fantastic location of Valenciennes means that ENSIAME is at the heart of Northern Europe, in a region rich in cultural and industrial heritage, and within reach of the main European capitals of Brussels, Paris, Amsterdam, Berlin, London and Luxembourg. The school currently has more than 1,000 students, including some 750 student engineers.
The school offers two types of engineer training:
Concours, available via the Concours Commun Polytechnique (Common entrance exam), or for those candidates in receipt of a DUT (HND equivalent), License 3 or Master 1, via the presentation of an application dossier.

The Sandwich route as a student, apprentice, or for those in employment, in-house training. This route is available for those with BAC+2 (2 years of University study), upon submission of a dossier and completion of an interview.
5 specialties are available:
'Engineer via exam route'

Mechanics-Energetics
Mechatronics
IT and systems management,

'Engineer via sandwich course route'

Industrial engineering
Electrical engineering and industrial IT.
Alongside these engineering qualifications, ENSIAME offers:
Two introductory engineering courses at school-leaver level

Polyméca preparatory course
Alternate preparatory course

A Masters in Quality/Hygiene/Safety/Environment,
A Specialist Masters in Railway and guided transport systems,
A diploma in technological research,
An International Master in Transportation and Energy
Flexible Personal Entitlement to Training solutions for those in the workplace.